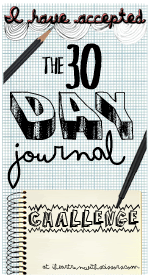 so, today i did day 1 and 2 of
run with scissors'
30 day journal challenge. i haven't decorated the cover of my journal yet, since i just bought it today. i did buy some really nice pens though and i am really excited to use them and get all creative-like.
day one -
Journal Prompt Number 1: Create a full page design introducing yourself
Highlight your name many times in the midst of your design.


i guess i missed the part where i had to use my name over and over . . . maybe i'll go back and add to it. instead i put my name in the middle and surrounded it by images of things that are a part of who i am.
journal prompt #2 -
What is the BEST part of your day?
it was really hard for me to pick just one thing . . . some days it's coffee, some days it's going out to breakfast with the man-friend, some days it's snuggling with the pup, or gardening, or being with friends, or dancing until my feet hurt, or going on a hike . . . so i tried to think of one thing i LOOOOOVE every. single. day. and that is hitting the snooze button and snuggling back down for "just 5 more minutes" surrounded and safe with my little family. that's the best.
i think i will go back through and add color to these pages, as well as spend some time decorating the cover of my journal.
for now? i will be hitting the shower, eating the LAST PIECE of strawberry rhubarb pie and going to bed. i am pretty tired tonight after my first derby practice in a while (i hurt my back, bummed out, and couldn't skate for a bit). hopefully i feel awesome tomorrow and can hit the track again tomorrow night (after spending some time in my garden in the morning of course) . . .
good night, loves!