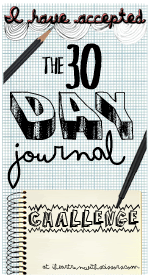 Journal Prompt Number 5:
We are all obviously bloggers right, or else you wouldn't be here :) Even if you don't have a blog, I know that you read them.
This page is dedicated to your favorite blogs!! What are they? Are there any blogs that you can't go a day without checking?
i sort of felt strange making a list of blogs that i read . . . esp since i am very very sporadic about reading them, and will definitely go forever between posting blogs of my own. it sort of felt like some sort of popularity contest . . . (don't take this the wrong way janel! i am sure the exercise was GREAT for other people! but for me, i needed to change it a bit for how i was feeling today and i think that's ok . . . i think that fits with the spirit of this whole journal exercise, right?).
so . . . instead of blogs (if you want to know what blogs i read from time to time, scroll down and look at the sidebar to the left . . . they are all listed there under "these friends of mine" - if you don't see yours and you'd like me to add it, let me know!) . . . i listed "worthwhile websites"!!!
these are all websites that i think are worth visiting, that are making a difference in someone's life, etc. i followed up the list with "now go play outside!" because seriously? it's summertime! get off your computer and LIVE YOUR LIFE! (this is mostly a message that
I
needed to hear right now . . . if you need to hear it, go a head and get outside . . . if not, i applaud you! it's so easy to get sucked in to this screen, these pixels, this crazy online world - so get off! get out! live in the real world!) . . . again, this is a message mostly for me. to remember the good that the internet can do, to celebrate it and then to get out and do some good of my own.
thanks for listening to my rant. :)
here's the links to the websites that i listed on my page (some of them are linked in the sidebar to the left too):
wwoof
providence roller derby
buy handmade
learning to love you more
tweak today
the daily green
depave
earth dinner

heifer intl
eat well guide
animal vegetable miracle
book mooch
foxpoint community garden
one bag
cover lay down
empowerment4women
daytrotter
food not lawns
the green guide
objectify this
this is not ikea
couchsurfing
powells books
what are some websites that you visit that you think make the world a better place?
---------
today, my friend
miss C
and i played hookey and went to the beach! we burnt just a little, got sand between our toes, picked up a few rocks and shells, ate some strawberries that may have been covered in sand and then went to
crazy burger
for some vegencheladas and a vegan cookie with rice dream and bananas and strawberry sauce . . . mmmmmm . . . i am still so full!
this weekend is going to be nuts . . . work, a bridal shower, providence pride (the roller derby is in the parade tomorrow night and are doing a fun exhibition bout sunday [fake teams!
unicorns vs rainbows!!!
] etc) so i might not have time to post my journal pages until monday!
see you then!