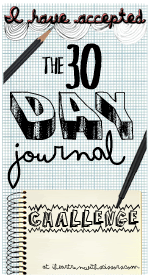 so i finally made the cover of my journal for the
30 day journal challenge
. i created the drawing and cut it out and used mod podge to glue it on top of images i cut out of an (gulp) anthropologie catalog . . . i really like how it turned out (except for the wrinkles from me being too hasty with the mod podge.
i also completed prompt #3 -
Journal Prompt Number Three: It's always nice to share with someone why you love them. Today, I want you to draw a picture, doodle, sketch, of a person who you love, or admire. Then, write that person a letter telling them why they mean so much to you!
i chose my sister, miss D. she really is a fantastic person! the more i get to know her, the more i really admire her and respect her. she is about 6 years younger than me, but we get mistaken for twins sometimes :) i take that as a compliment. we really weren't close as children, growing up in a house so full of people and having such a big age difference . . . but after i finished college and she started coming up to visit me from time to time, we started being friends (rather than just big sister and little sister) and it's a totally new and lovely dynamic.
she is currently living in juneau, alaska and have the adventure of a lifetime (as is usual for her). this fall, she and a few friends are traveling to Ireland to participate in
wwoof
and i hope to be able to join her!
you can read more about her adventures at her blogs
here
and
here
. she's the bees knees.
----------
right now i am listening to a johnny cash vinyl and getting ready to work on my journal prompt for today. then we'll be heading off to watch the final game! are you a fan of the celtics or the lakers? me? i am in it for the pizza, the beer and the company!