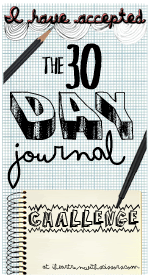 Journal Prompt Number 4: What does your heart look like? It can be literal, it can be symbolic, it can be broken and need fixing...anything!
i'm really happy with the way this one turned out. the process i've been using for this challenge is to read the prompt in the morning, think about it all day and once an answer comes to me i'll sit down with the pen and paper and work it out.
for this one, the idea came while shopping for vinyl records with my roommate, miss A, i was sorting through some emmylou harris albums when i had the vision of a heart shaped record. this isn't what i ended up with, but it's what got the ball rolling. i thought of all the allusions that could be made from the fact that my heart was a record or a phonograph or a record player . . . scratches, skipping, needing to be heard, needing to be dusted and cared for, having a message to relay, a sad song, a happy song, spinning round and round, feeling outdated, feeling pre-loved and thrown away, feeling rehabilitated and renewed, crackling with life, oozing romance and kitsch at the same time. i added the lyrics to an
over the rhine
song called
"born."
it is a beautiful picture of a heart growing and learning and loving and being willing to try again. the story for this song came from the couple that fronts Over the Rhine (Karin and Linford) and their relationship when it hit a rocky spot. allegedly, they bought a case of wine and drank a bottle every night until the case was gone - not that alcohol is a way to solve your problems - but this helped them to open up, to laugh, to remember their love . . . and there you have it . . . the urban legend behind this lovely song, this amazing band and part of the inspiration for my journal page.
---------
now it's off to bed . . . just finished a late night of watching the celtics lose to the lakers. whoops.