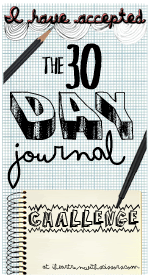 sorry i don't post these every day . . . some days are just too busy for me to get around to posting them! but don't worry! i am doing them.
i am also spending time with my new roommates, rollerskating, working in my garden, playing with my dog, and loving the summer weather (even though it' SO HOT, i can't complain cause it's usually FREEZING cold here . . . like 9 months a year . . . i'm cold).
so, here's the latest pages and their prompts:
Journal Prompt 9: Choose another person who is vert significant in your life right now. It can definitely be the same person that we wrote about on day 3, but I chose to do someone different. Anyway, this prompt is going to be all about those wonderful adjectives, and typography. Describe your special person with as many words as you can fit. For each word, try to use a different font or writing style. This is a great way to practice fun typography!


I created a picture of my man-friend based on a photo i took of him a few weeks ago. i used different fonts to create the different textures in the image (the beard, the plaid in the shirt, over the pocket and in the quote) . . . i really like how it turned out!
Journal Prompt 10: This prompt is all about collections. I am such a
collector. I have too many collections but I love them all. I am definitely the type who moves on though to new collection depending on my mood and the seasons in my life. What do you collect? If anything. Do you collect buttons, clothes, shoes, friends, parking tickets, whatever!! Illustrate your collections. This will be fun to look back on someday and see how your collections have grown or have moved on :)
I didn't really have anything i collected in earnest, so i just walked around my house looking for themes in my life . . . so, i have a lot of: buttons (From various bands, events, etc), vinyl (obvi), feathers (mostly for crafting), sunglasses (can't say no to the perfect pair!), books (tons and tons!), coffee mugs (when i travel, i usually get one in the city that i go to), things with owls on them, vintage bathing suits (love those pointy cone bras in them! ha ha!), and vintage boots.
Journal Prompt 11: Hello friends. Today is another one of my favorite pages. And speaking of favorites, this is a page all about your faves!!
We are going to list your favorites in each of these four categories:
* TV shows:

Glee, LOST, arrested development, the office and SNL (though i don't have TV so i have to watch reruns online or at a friend's house)



* Music

david bazan (from pedro the lion), jenny lewis (and rilo kiley), great lake swimmers, over the rhine, red house painters (aka sun kill moon)



* Food

local food, strawberries, curry, ice cream, lemonade



* Splurges vinyle, vintage, craft supplies, books at garage sales . . .


Journal Prompt 12: Journal 12 is all about trends. Whether you consider yourself "trendy" or not, I bet there are a few trends that you find yourself gravitating to. If not, you can create a page of trends that you think are lame too, it's up to you :)
for this one, i picked out all the ironic "hipster" trends that i follow . . . weather or not they are "good" (like my fabric grocery bags) or just plain silly (like leggings!) . . . i've made them painfully obvious. let's celebrate the ways that we are just like everyone else!!!
----------
in other news:
been eating well even though summer usually means less of an income for the man-friend and i . . . we've gotten our first two weeks of our CSA shares and that, plus great weather making our garden produce like crazy!, has kept our tummies full.
been taking some lovely summertime photos - like the construction on the interstate they've been doing . . . here's a mural that was on the overpass for I-95 . . . and the construction vehicles that are about to tear it down! ch-ch-ch-changes . . . it's sad to see a piece of art go . . . i wish they'd just let them stay and be free-standing walls . . . or incorporate them into the new architecture that goes up in the area . . .