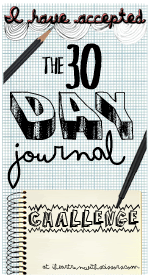 Journal Prompt 13: Silly insecurities....we all have them unfortunately. If you don't, you are my hero :) Today I want you to document your insecurities, face them, write them down, reflect on them, and get them out of your system. Somewhere on your page I want you to write "BUT..." This will lead in to tomorrow's prompt :) This is definitely not a fun prompt but it's kind of necessary in order to move past them.
Journal Prompt 14: Ok, now that we have all of the yucky insecurities out of our system, I want us to completely focus ONLY on the things that make you the amazing person that you are. What are the qualities that you possess that make you so wonderful? Don't be shy and don't be modest either on this one :)
Journal Prompt 15: Today I would like you to brainstorm some goals for the upcoming month. A short list of goals that will be attainable to accomplish in one month.
i think i need to add being braver and practicing jamming while at derby practice to my list. i've already gone to yoga and spent a lot of time in the garden though so i feel like i am succeeding!!
Journal Prompt 16: Short, sweet, and straight to the point :) What are you wearing today? Write it, doodle it, cut it out of a magazine, whatever!
Journal Prompt 17: Today you are going to illustrate a day. It can be today, it can be yesterday, it can be a significant event that you have had in your life :) Use pictures, labels, words, doodle, sketches, anything you want, to describe your day! This is a cute one. Enjoy!


sorry so short and sweet - i am slammed this week! i've got to go - i promise i'll do my giveaway soon!!! it's so cool to see that i have 18 followers now! welcome to bird on a wire!